Wednesday may be the perfect weekday to meet a friend for a glass of wine.
Or six.
If you think I'm suggesting a mid-week drunken rampage, you're wrong. I'm recommending an exercise that will challenge your palate and your mind – wine tasting.
Providence has two regular tastings every Wednesday. Many people are intimidated by wine, but these events are both accessible and affordable.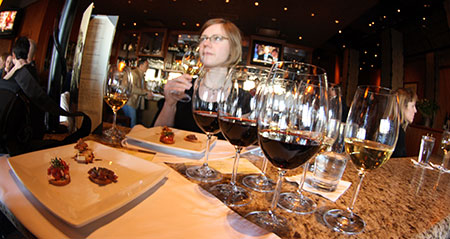 Tasting wine at the Napa Valley Grille (photo by Jeremy May)
1. Wine Tasting Wednesdays at the Napa Valley Grille
When? Wednesdays, 5:30-7:30pm
What? To drink, 3 reds and 3 whites (from California, of course). To eat, an appetizer plate with three small, but satisfying, creations. For your education, cards with tasting notes for each wine.
How much? $2 a pour
Where?
111 Providence Place, Providence (at the mall, street access)
2. Wednesday Wine Flights at Gracie's
When? Wednesdays, 5-7pm
What? To drink, three wines in the week's theme (see the schedule on their site). To eat, tasty treats from Gracie's famous kitchen.
How much? $10 total
Where?
194 Washington St., Providence (downtown)