If you aim bring lunch to work every day, I'm sure you've had one of these nights: it's past your bedtime, you have absolutely nothing lunch-worthy in the fridge, and you want an easy option to pack the next morning.
For this salad, I cooked spelt overnight in the slow cooker. I worried it would get too soggy (most slow cooker recipes were written for a breakfast porridge), but it emerged intact and springy. The rest of the recipe was easy to assemble in the morning.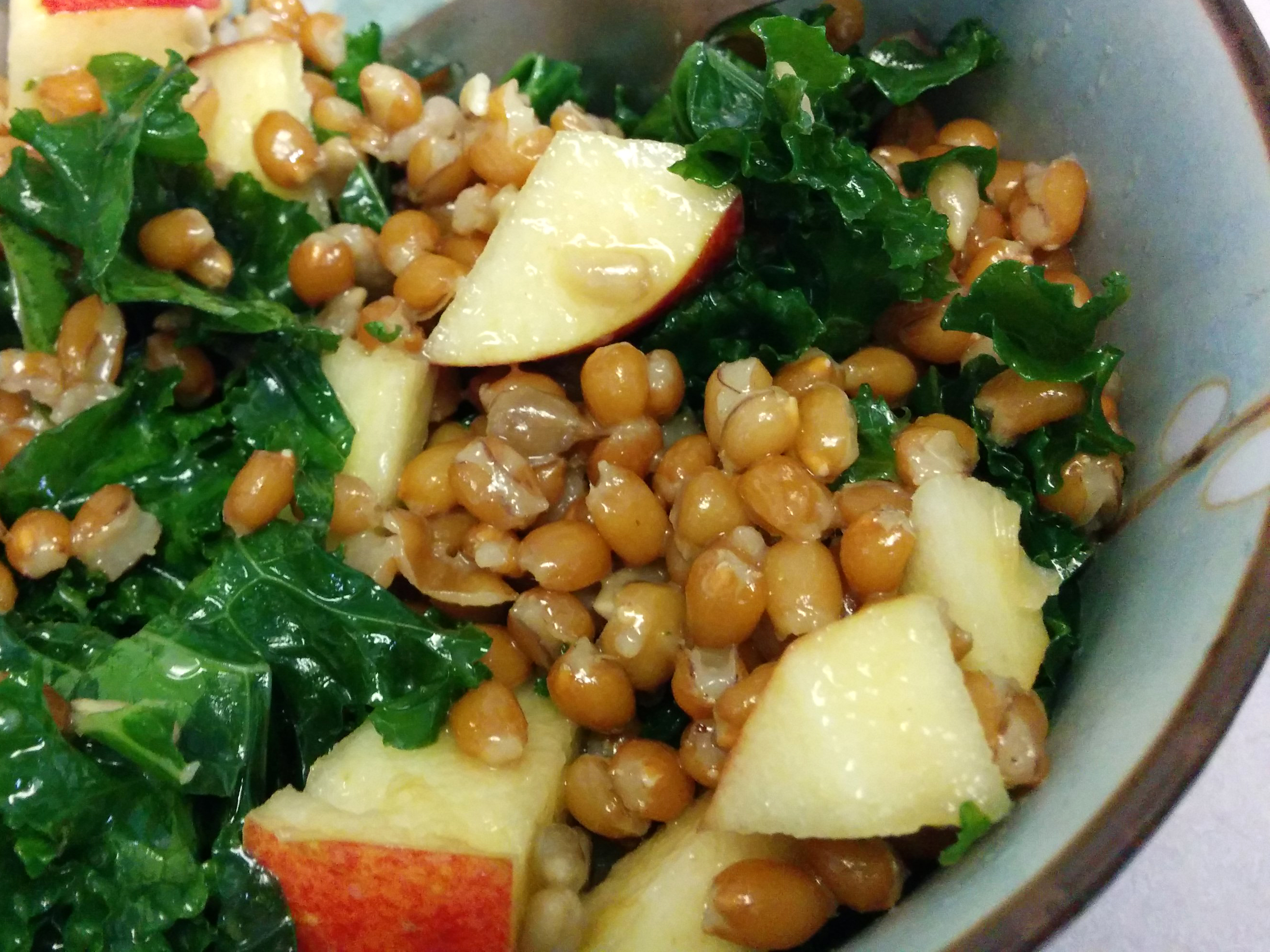 Recipe: Spelt and Kale Lunch Salad
Ingredients
1 cup uncooked spelt (I used Bob's Red Mill)
2 cups water
pinch of salt
2 tbsp vinegar
2 tsp honey (or more to taste)
2 tbsp dijon mustard
1/3 c olive oil
1 large apple
1 bunch curly kale
1/2 cup sunflower seeds
Instructions
To slow-cook spelt: place spelt, water, and salt in a slow cooker. Cook overnight on low, about 6-8 hours. (Alternately, cook spelt according to the package directions.)
Pour off any excess water from your cooked spelt.
Make the vinaigrette: in a large bowl, whisk the vinegar, honey, and mustard until combined. Taste for sweetness and add additional honey if needed. Slowly add olive oil while continuing to whisk.
Chop the kale: I like to roll it into a thin, long bundle and cut into 1/2 inch strands.
Add the kale to the vinaigrette. If you're not squeamish, massaging the dressing into the raw kale by hand will considerably soften your salad and make it easier to eat.
Core and chop the apple.
Add the apple, sunflower seeds, and spelt to the salad and mix thoroughly.