We made the excellent decision of ordering five pounds of bulk cocoa nibs from Urban Greens. I'm going to a friend's birthday cookout today, and since he's a creative cook, I thought some cocoa nib cookies were in order.
Too bad the recipes I found were a bit boring. Most mixed cocoa nibs with chocolate chips, which is like putting a precious stone in a piece of costume jewelry. Some were ultra healthy paleo "cookies". I wanted something decadent and creative, so I adapted a basic double-chocolate cookie recipe with thousands of positive reviews into this more unusual combination.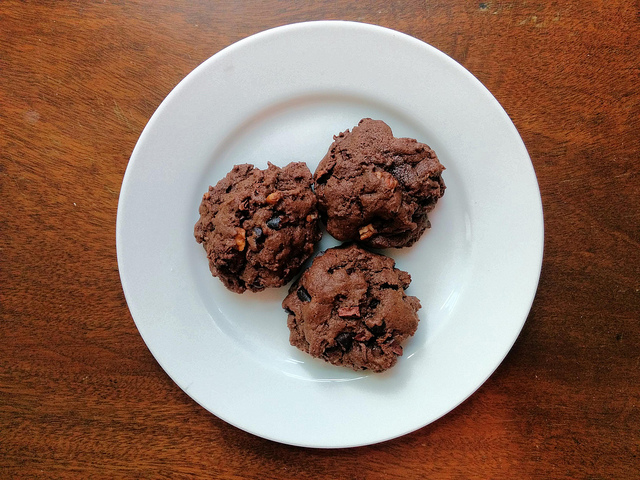 Recipe: Mexican Cocoa Nib Cookies
Summary: Double chocolate spiced cookies with cocoa nibs and pecans. Makes about 20 cookies.
Ingredients
1 stick butter, softened
3/4 cups white sugar
1 egg
2 teaspoons vanilla extract
1 cup all-purpose flour
1/3 cup cocoa powder
1/4 + 1/8 teaspoon baking soda
1/4 teaspoon salt
1/4 teaspoon cinnamon
1/8 teaspoon nutmeg
2 pinches cayenne powder (or more to taste)
1/2 cup cocoa nibs
1/2 cup finely chopped pecans
Instructions
Preheat oven to 350 degrees.
Combine the flour, cocoa, baking soda, salt, and spices (cinnamon, nutmeg, and cayenne) in a bowl and whisk to combine.
In a stand mixer, beat the softened butter, sugar, egg, and vanilla until fluffy.
While mixing on low, slowly add the flour mixture until just combined (do not overmix).
Stir in the cocoa nibs and pecans until evenly mixed.
Drop onto the cookie sheet in mounds the size of a ping-pong ball. No need to make smooth balls.
Bake for 10 minutes or until the cookie is baked on the outside but still soft. Transfer to a wire rack to cool.
Preparation time: 6 minute(s)
Cooking time: 10 minute(s)