Here's a post-trip followup to my earlier post about packing the Timbuk2 Aviator.
I was very happy about my decision to take a backpack instead of a rolling suitcase.  After our flight, we had a train journey with three transfers going from Frankfurt to Berlin – and that was just our first destination. Rolling a suitcase through stations and down the train aisles would have been frustrating.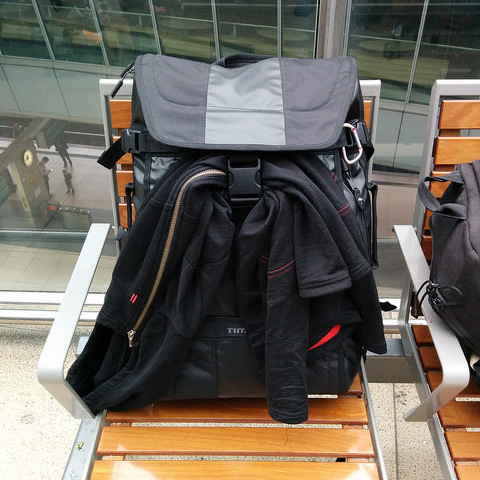 Unlike some other huge backpacks I've worn, this one didn't stick out far enough to make me feel like I was going to knock people over. When I first saw it, it was taller than I expected (extending above my shoulders), but it's a good tradeoff for a slimmer pack. The backpack was comfortable and distributed the weight nicely on my shoulders; I never pulled out the hip straps.
I brought a small purse for everything I needed at constant reach – passport, wallet, phone. Like other backpacks I've owned, there's no easy way to reach inside the backpack while you're wearing it. Had it been cooler, had my clothing not suffered from minuscule female pockets, or had I been willing to wear one of those passport holders around my neck, I probably could have forgone the extra bag, but it was small and convenient, and I needed to bring one for day trips anyway.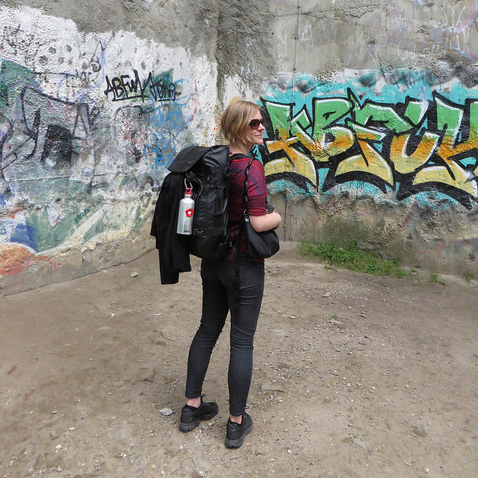 The packing cubes worked perfectly, and I packed well for an unpredictable trip which ranged from 50 degree rain to 90 degree blazing sun. As we traveled, we picked up some souvenirs along the way – beans from Bonanza Coffee Roasters, some spirits from Dr. Kochan Schnapskultur… even with heavier bags, we still were able to hike to the top of the Flak Tower in Humboldthain before our train out of the city.
We'd also packed a collapsible zippered shopping bag from Target. I picked it up in Portland OR last year and it's fantastic, because it has more structure than most collapsible bags and folds flat. Before we left the country, I put my packing cubes in the folding tote and stuffed my backpack full of delicious German groceries – dark chocolate spread, Haribo gummies, dessert wine, chocolate bars, even my favorite fizzy vitamins. I zipped away the backpack straps and checked it on the way back – it weighed in at 13kg. The backpack provided good structure and protection, and our fragile goodies arrived unscathed.