When we booked a 2-week trip to Germany, I needed to replace my broken old backpack. Timbuk2's Aviator backpack (the smaller, non-wheeled version) caught my eye. I liked how the front fully unzipped so you could pack with full access, just like a suitcase. I also liked the subtle design and black color; it's more of a city bag than something you'd take on a camping trip.
The reviews were perplexing – some said it was perfect for a weekend trip, some for a week or two. The inner dimensions of the bag weren't published, so I thought these photos might be helpful to others.
Here's what I'm packing. It helps that we'll be in an apartment with a washing machine during the first week.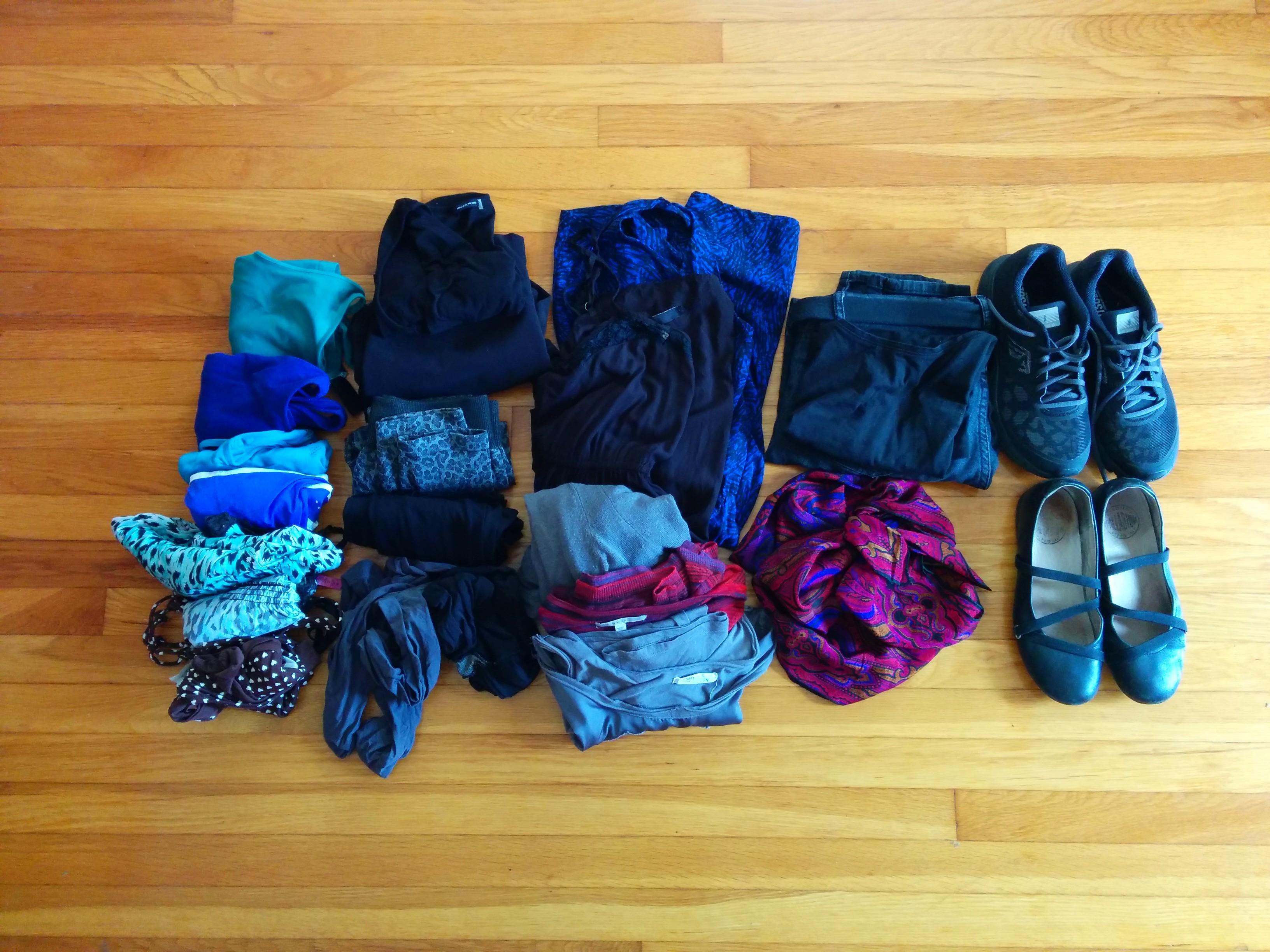 2 dresses
1 skirt
2 pairs of leggings (1 black, 1 gray print)
2 pairs of tights (1 black, 1 gray)
1 cardigan (gray)
4 tanks (black, gray, blue, green)
1 collared sleeveless shirt
1 light, short-sleeved sweater
1 pair running shorts
1 pair sneakers
1 pair flats
underthings
sleepwear
scarf
rain jacket
on the plane: jeans / tshirt / hoodie
I bought the slim packing cubes from eBags and luckily they fit perfectly in the backpack. Everything except the shoes and rain jacket easily fit into 3 packing cubes.
I packed these in the main compartment along with 1 pair of shoes, an umbrella, a rain jacket, and a hairbrush. I stacked them on their short edge to make more space, but if I didn't have much else in the main compartment, I would have laid them flat.
The top compartment of the bag will fit my glasses, chargers, and a bag each of liquid and non-liquid toiletries. I like this clear quart bag by Flight 001. I felt frivolous ordering it but I'm so tired of sandwich bags that disintegrate halfway through a trip.
The backpack zips up nicely and cinches on the sides.

That's it! I'll tell you how it goes.