On New Year's Eve, I don't like to travel. I don't like to party hard or go to bed late into the new year's first morning. What I like is to wake up in my own bed the next morning, sans hangover, and go for the first walk of the year in the crisp morning air.
The first morning of 2008 was an especially exciting one because we were walking out the door of our new home. It was kind of early and a bit cold; we were hungry. Lucky for us, Julian's was open.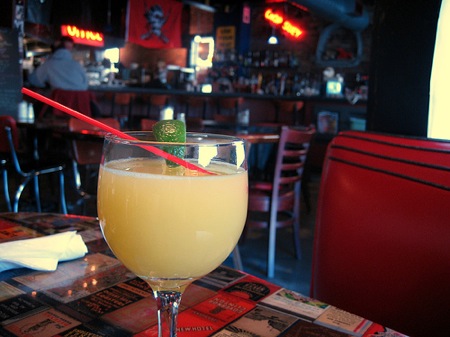 A mimosa at Julians in Providence. A bargain at $3!
I've always loved Julian's, but now that it's down the street from me, I love it even more. It's one of those rare places that can be everything to everyone without compromising its individuality. For some, it's a weekend refuge to brunch so late it's probably no longer called brunch, nursing a hangover with eggs benedict and a mimosa. For hip college students, it's where to get wined and dined on parents' weekend. And for for Providence's west siders, it's a damn good neighborhood bar and restaurant.
Anyway, where was I? Oh yes, it was around 10 am on New Year's day, and we got to sit in our favorite booth (the one by the window, you know, with tabletop made of antique matchbooks) and enjoy a leisurely breakfast. I had pancakes with apples, cranberries and white chocolate (a special so special it was wiped off the board a second after I ordered it) and Jeremy ordered cheddar chipotle grits, which came with two eggs and toast.
It's going to be a good year.
Julian's

318 Broadway, Providence
www.juliansprovidence.com