A year ago yesterday, a crazy event took place: a Lord of the Rings day. My boyfriend and I, along with another couple, watched all three Lord of the Rings movies. This wouldn't be much of a challenge, except these were the extended versions – a total playing time of about 11 hours.
To pass the day in style, we prepared and ate food for all 7 Hobbit meals, including "coney stew" (rabbit), which we cooked over a wood fire. Of course, this was accompanied by a decent amount of ale and mead.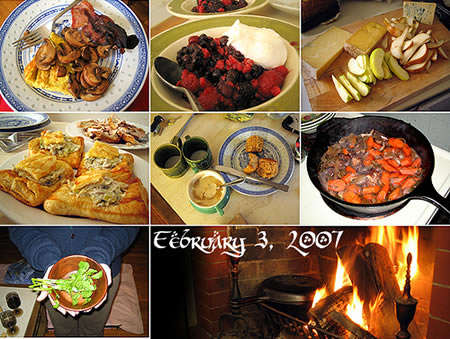 Here was our menu:
First Breakfast – omelette, mushrooms, bacon (cooked in the fireplace), coffee – which, fortunately for us, they did actually drink in the books
Second Breakfast – whipped cream and berries, seedcakes
Elevensies – bread, cheese, fruits. This is when the ale started.
Luncheon – leek and mushroom-stuffed puff pastry boxes, cold chicken
Afternoon Tea – seedcakes, banana bread and Keemun tea
Dinner – coney (rabbit) stew with red wine, onions, garlic, carrots and herbs, cooked in the fireplace for about 6 hours
Supper – we were going to have a selection green salads, but could only muster up enough hunger for a few sprigs of watercress
By the time next February comes around, we might actually be ready to do it again.
Sources:
Rabbit: Antonelli's Poultry,

62 De Pasquale Ave., Providence RI

Keemun Tea: Basically British, 16 Cutler St., Warren RI
Cheese: Farmstead, 186 Wayland Ave., Providence RI