Before I launch into my weekend I wanted to point you to a new site addition – the "What's Cooking" item on the right. This is pulling from a Twitter page which I can use to make quick updates without getting into a whole blog entry.
The Memorial Day weekend found me in New Jersey. We first shot over to New York City where we visited Loreley for beer and pretzels and Pasticceria Bruno for dessert and cannolis to go.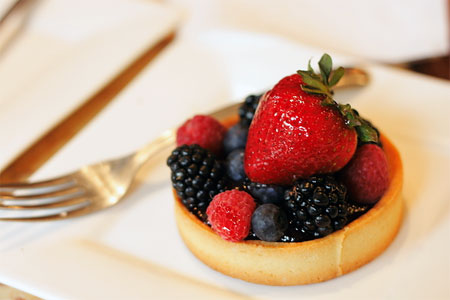 Berry tart from Pasticceria Bruno. Photo by Jeremy May
Back in New Jersey we poked into an Indian grocery store in Parsippany called Subzi Mandi, where I picked up rosewater and some jars of spicy condiments and marveled at the unusual produce like Luffa (aka Chinese Okra).

Lobster and corn, eaten outside at my parents' house
Later my family made lobsters using my dad's new method – a turkey fryer (filled with water, of course). It's a great way to cook a lot of lobster while keeping the mess and smell out of the kitchen. I love eating steamed lobsters at home. Not only are they much more expensive in restaurants, but they definitely don't taste as good if you can't make a mess.  Hope you all had a great weekend too!