I've been neglecting my blog this week. It's not that I don't think "I need to write about this!" every time I eat a delicious morsel or spy some interesting food item – mostly, it's that I hesitate to post without a picture, and after a day at work, the lighting in my house can most pleasantly be described as "romantic". So I'm going to tell you about the pot of risotto I made tonight, but you'll just have to imagine how beautiful it looks.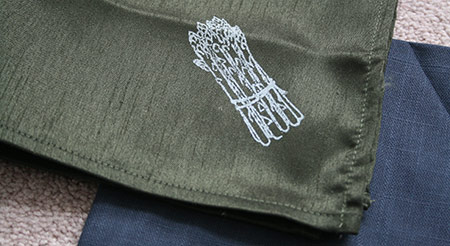 No food photo, but check out this asparagus napkin I silkscreened at AS220's print shop yesterday!
Sometimes I gravitate towards recipes with multiple diced vegetables – I read them slowly, thinking of how therapeutic all that chopping will be (I suspect that visions of the beach do this for most people, but I'll take what I can get). Last night I was reading Ruth Reichl's Garlic and Sapphires, and when I got to the Risotto Primavera recipe, I knew it was the perfect fate for my Monday night and the extra bunch of farmers' market asparagus I'd been saving.
While it doesn't take that long to prepare, it's the perfect evening "cooking retreat" – an excuse to turn off the phone, the TV and the computer, and immerse yourself in the acts of chopping vegetables and stirring risotto.
Now for the recipe…
Ruth Reichl included this recipe in her book Garlic and Sapphires (which I'm in the middle of, and loving her writing style). I made up for my lack of zucchini by using a bit more of the other vegetables. I also wasn't ready to give up that much of my precious saffron stash, but 1/4 teaspoon made for plenty of flavor.
Risotto Primavera
½ pound asparagus
5-6 cups homemade chicken stock
½ teaspoon saffron strands, crumbled
3 tablespoons olive oil
1 medium red onion, diced
1 smallish carrot, diced
2 small zucchini, diced
½ teaspoon salt
2 cups Arborio rice
½ cup dry white wine
½ cup thawed frozen peas
½ cup Parmigiano cheese, plus extra for the table
Salt and pepper to taste
Cut off the tips of the asparagus and set them aside. Dice the top half of the stalks (discard the rest), and set the diced asparagus aside.
Bring the stock to a steady simmer in a saucepan. Remove ¼ cup of the stock. Add saffron and set aside.
Melt 2 tablespoons of the butter with the olive oil in a heavy-bottomed saucepan. Add the onion and cook for about 6 minutes, until its golden.
Add the carrot and cook for 5 minutes more. Add the zucchini, diced asparagus, and ½ teaspoon salt, and cook for about 5 minutes more.
Add the rice and stir until it is coated with the oil. Add the wine and cook, stirring, until it has evaporated, about 3 minutes. Now slowly add enough simmering stock to cover the rice, and cook, stirring, until it has evaporated. Keep adding, stirring, and evaporating for about 20 minutes, until the rice is soft on the outside and still has a bit of a bite at the center. Add a few more spoonfuls of stock, remove the pan from the heat, and add the remaining 1 tablespoon butter and the cheese. Taste for salt and pepper, and serve with extra cheese for people to add to their own taste.