My introduction to macarons happened in college. I wasn't on a trip to Paris – I was in suburban New Jersey at a Wegmans, where pastry chefs were trained by famous French pastry chef Pierre Hermé to replicate his famous macarons along with other dessert delights. (Macarons, for the uninitiated, are nothing like American macaroons. I'd describe them as melt-in-your-mouth almond meringue sandwiches).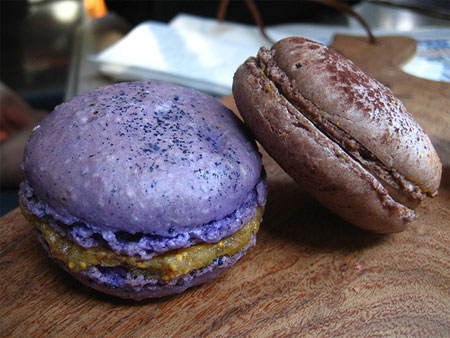 Macarons from Madeleine Patisserie
Last summer I went back to Wegmans for a macaron and they were no longer on the shelves. I've been craving them ever since. So on last weekend's trip to New York I had to pick up an assortment from Madeleine Patisserie (
128 West 23rd St.) on my way to the train. We enjoyed an assortment of flavors; my favorites were rose and caramel.
But now that I'm back in Rhode Island and the box is empty, I'll just have to go back to making my own.