I grew up near New York City, so when I visit, I'm not drawn to the usual tourist attractions. Instead, I look to fulfill some need Rhode Island isn't able to meet – odd stores, exotic cuisine, out-there art.
Believe it or not, Rhode Island doesn't have one German restaurant. So before my latest trip to the big apple, I made a
map of all the German restaurants in Manhattan, pining for good beer and a sausage plate. Unfortunately we only had time for one, and we chose Loreley.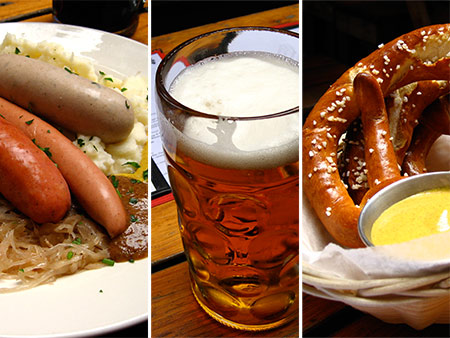 Loreley is modeled after the pubs of Cologne, where the owner once lived. The biergarten's communal tables will look familiar to anyone who has downed a liter in Deutschland, and the restaurant's interior has an upscale coziness. Their 12 taps hold old favorites as well as seasonal beers (like Oktoberfest brews). They also offer Cologne's specialty, Kölsch.
We each worked our way through a liter – I had the Hofbräu Helles, my boyfriend opted for the Köstritzer Schwartz Bier, both were excellent. As for food (which was certainly needed to soak up the beer), we ordered freshly baked pretzels with mustard, currywurst, a plate of assorted sausages, and aged gouda-topped rye bread. We left satisfied, slightly tipsy and vowing to return.
Loreley, 7 Rivington St. (Lower East Side), http://www.loreleynyc.com