Something's stirring among the abandoned storefronts on Pawtucket's Main Street. The Grant Building is an old department store that's been renovated to house several diverse businesses, including a weaving studio, a furniture store, a print shop, a gallery, designers and architects, a spiritual gift shop, and a cute cafe.
The first thing I noticed on Kafe Lila's menu this morning was the unusual and delicious ice cream flavors – jasmine orange blossom, vanilla tea, earl grey, sweet basil, bleu cheese w/ almond praline, ginger, cinnamon, coconut (the last three vegan). Too bad it was 8 am and 45 degrees out!
Instead I went for a cappuccino and some vegan banana chocolate walnut bread and took a seat at a pink 50s table. The cafe is really welcoming, filled with comfy vintage sofas and chairs, with a bookshelf of art- and craft- related magazines to keep you occupied.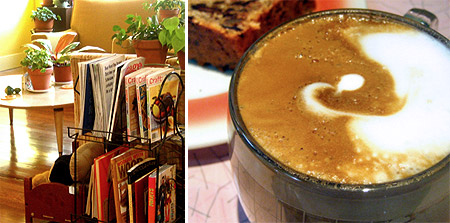 The cappuccino was the best I've had in a long time – the espresso was nutty and almost chocolaty, and beautifully poured as well. I noticed they also offer cold-pressed iced coffee. The enormous slice of banana bread was tasty too. I'll definitely be back for ice cream.
Kafe Lila
http://www.kafelila.org

250 Main St., Pawtucket RI