In America, the act of buying a cup of coffee has become synonymous with grabbing a paper "to go" cup.
Though I'm guilty of the occasional paper cup, for me the price of coffee at a cafe does not only include pouring hot water over coffee beans – I can do that at home for a fraction of the price. I see it as a short-term rental of a seat and some atmosphere. Getting coffee "for here" not only buys the cafe experience, but if you are in the right cafe, also affords the feel of a warm ceramic mug and the sight of a well-made coffee (I often can't resist a photo). Here are some of my favorite places in Providence to get coffee to stay. Of course, there are many more, so this post might warrant a second installment.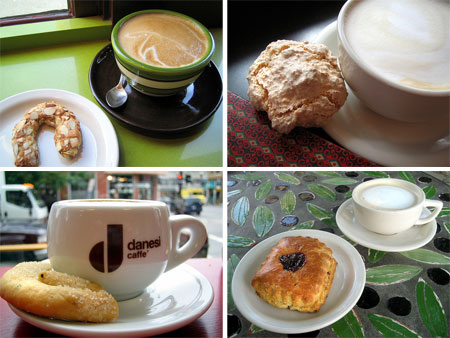 clockwise, from top left: The Edge, Cafe Choklad, Olga's Cup and Saucer, Roba Dolce
Here are my notes on each: (click link to view)
1. Cafe Choklad, 2 Thomas St. (corner of N. Main) – I often sneak into this Swedish cafe for a cup of tea or coffee on my way to work. The freshly baked goods create a scent that if bottled, would be a best-selling perfume. Frequented by RISD students and professors, Choklad is often full around lunch, but there's usually a seat in the morning, when it seems most customers are opting for takeout. In the winter, take a seat by the fireplace and warm up with some spicy hot chocolate.
2. The Edge, 199 Wayland Ave. – Unlike most of the world, I look forward to doing laundry. Why? My laundromat is around the corner from The Edge. The lively green counters mirror the pace of conversation here – quick, witty, intelligent. Their espresso blend is delicious and the almond horns, which make an occasional appearance, are just like those I remember eating in Germany. Don't miss cupcake happy hour from 4-6pm on weekdays.
3. Olga's Cup and Saucer, 103 Point St. – Regrettably I don't get to Olga's as often as I'd like. Which is too bad, because every time I go, all of my stresses and worries seem to disappear. Olga's is a unique hideaway in the city – a cottage and lush garden in the shadow of the Jewelry District's brick mills. They do offer savory brunch fare, but my favorites are always the pastries, such as their perfect chocolate croissant. Even if you haven't been there, you might have already experienced their bread at a number of Providence restaurants.
4. Roba Dolce, 178 Angell St. (corner of Thayer) – Though primarily known for their Gelato, Roba Dolce also has fantastic espresso drinks. Powerful and served in small cups, their cappuccino will really wake you up. The window seats are a great place to observe the interesting fashion choices of Providence's student population. I've heard that Italians sometimes eat gelato for breakfast, and whether or not it's true, cultural empathy is a great excuse to savor a small cup with that cappuccino.
Want a cup? I've put these cafes on a map.