I'm so behind on posts – I haven't even finished telling you about my exciting adventures in Las Vegas – but I wanted to quickly share a tip for finding places to hit while traveling. Of course there are review sites like Yelp, plenty of periodicals, and even just a virtual walk down the street with Google Maps' street view. But sometimes I want more personal advice.
I follow a lot of blogs on Google Reader and have many well-traveled friends who post photos on Flickr. When I'm getting ready to travel, I like to  search those two sites to see whether my friends (real or virtual) have visited my destination. Here's how I do it:
Flickr:
If you don't use Flickr, you can simply head over to flickr.com and search for your destination (maybe add a keyword – like 'food' or 'park'). But if you do use Flickr, and want to search your contacts' photos, click 'More Search Types' after you type into the search box on the top right and choose 'Your Contact's Photos.'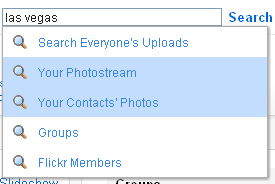 Google Reader:
If you're not familiar with Google Reader, it's a RSS reader – a tool that allows you to follow blogs (the benefit: no need to visit each blog to look for updates). Simply search at the top and your  results will show you whether that search term was used in any of the blogs you follow. Sometimes, it'll be a surprise to see which of your friends have visited your destination.
What about you?
How do you research the places you're going to visit?