Last night I had the pleasure of attending Food for Thought, an annual event for which some of the best restaurants in Rhode Island come together to raise money for the Genesis Center's culinary arts training program.
This year it was held in Roger Williams Park's lush botanical center. Guests wandered through the greenhouse to sample the signature dishes served up by each restaurant. Three really stood out for me: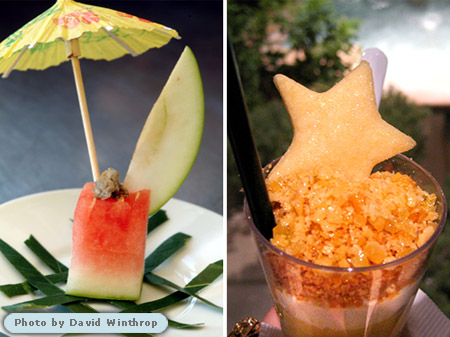 Photos: Sunrise Land Shrimp (credit: David Winthrop) and Gracie's
1. El Rancho Grande – guests who hadn't yet heard of this Mexican restaurant were asking for an address as they raved about the food. I've already had the pleasure of eating there but was still amazed – they brought the tenderest chicken in mole sauce, tamales both savory and sweet, shrimp in a red sauce and palm-sized sopas.
2. Gracie's - I love everything I've eaten at Gracie's, and their elegant dessert was no exception. Four delectable flavors were layered in a slim, cone-shaped vial: a puree of stewed amarillo cherries, Meyer lemon curd and two creamy mousses. To top it off, explosive pop-rock toffee and a star-shaped cookie brushed with gold dust.
3. Sunrise Land Shrimp - I was excited to try Sunrise Land Shrimp's specialty: bugs! The crickets and grasshoppers were certainly snackworthy, but I was blown away by the mean-looking waterbug, which provides meat with a crab-like consistency. We were told the flavor would be much like a jolly rancher, which seemed hard to believe, but was spot on – tangy, fruity and very intense. I recommend the experience (to the non-squeamish, of course).