Cauliflower is like a blank canvas which takes beautifully to strong flavors. I like it roasted with bold spices, in a soup with blue cheese, raw with spicy hummus. Recently I discovered this Indian recipe in an out-of-print book called "Cooking with the Spices of India". A family friend gave me the book, which came with a box of spices, because he wasn't so fond of Indian food. I'm very happy he thought of me!
This recipe is out of this world. It might sound involved, but after you make it once, you'll find it's totally worth it (and not actually that complicated).
Panch Phoran is a spice mixture composed of fenugreek, nigella seed, mustard seed, fennel seed, and cumin seed.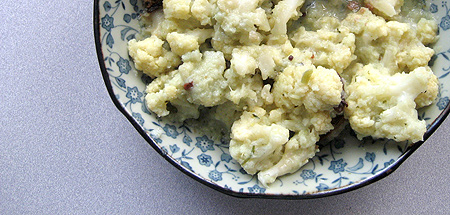 Braised Cauliflower with Panch Phoran Yogurt Sauce
1 small onion, peeled and coarsely copped
3 cloves garlic, peeled and coarsely chopped
a 1-inch piece fresh ginger, peeled and coarsely chopped
1 cup lowfat yogurt
½ tsp salt
1 tsp sugar
1 head cauliflower (about 2 lbs), separated into bite sized florets
3 tbs vegetable oil
2 whole cloves
2 green cardamom pods
a ¾ inch piece cinnamon
1 tsp panch phoran
salt, to taste
¼ cup fresh cilantro, coarsely chopped
In a blender, combine the onion, garlic, ginger and 2 tbs of cold water. Puree and transfer half of the paste to a large bowl with the yogurt, salt and sugar. Stir to combine. Mix in the cauliflower florets, turn the florets in the marinade to coat thoroughly and set aside.
In a large skillet, heat the oil over medium-high heat until very hot, but not smoking. Add the cloves, cardamom pods, cinnamon and panch phoran, stir and allow the spices to sizzle and pop, about 30 seconds. Add the remaining half of the garlic-ginger puree and stir for 2 more minutes. Add the cauliflower-yogurt mixture and cook for 3 minutes. Reduce the heat to low, cover and let the cauliflower simmer for 5 minutes. Uncover the pot and finish cooking until the cauliflower is tender, about 12-15 minutes. Check for salt, stir in the cilantro and transfer to a serving dish.