Cultural festivals are a fun and inexpensive way to get a home-cooked meal and a taste of culture. This fall, I made it to a church's Greek festival and the German club's Oktoberfest, both in Pawtucket. Put these on your calendar for next year!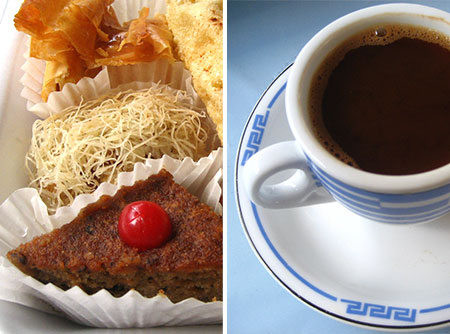 Photo: Greek pastries and coffee
The German American Cultural Society in Pawtucket holds its annual Oktoberfest on a weekend in September (for up-to-date event listings, check out their website). Their club is in a Pawtucket residential neighborhood and seems quite inconspicuous – you'd hardly expect the mirrored ballroom, stage, and two bars hiding inside. The Oktoberfest event has entertainment and some delicious food and drink options. Various sausages are grilled outside and served with sides such as potato pancakes. For dessert, you have your choice of home-baked cakes and pies. And of course, don't forget the beer!
This August was my first time at the Annual Grecian Festival, held at the Assumption of the Virgin Mary Greek Orthodox Church. If I knew how good the food was, I'd have been going every year. I had a sampler plate piled with Greek favorites like Spanikopita and Mossaka and my boyfriend tried the Lamb Shank. Just when I thought it was over, we noticed the pastry table, which was stocked with at least 8 types of pastry, each more mouth-watering than the next. What's a girl to do? I got a box and one of each. We also tried Greek coffee and Metaxa. Unfortunately we missed the entertainment – maybe next year.