In my two posts about my trip to New York last weekend, I somehow neglected to mention why I was there – the 10th annual Chocolate Show!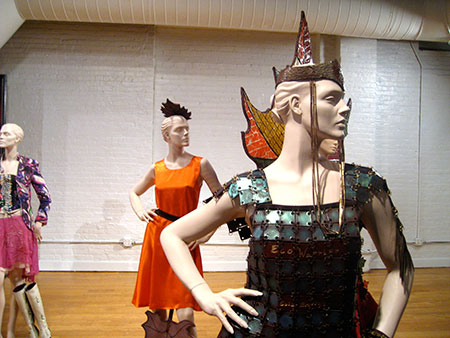 Chocolate Fashion at the Chocolate Show
If you haven't heard of it, it's a 40,000 square foot exhibition hall full of chocolate. Visitors shuffle through in a daze, tasting samples from international chocolate makers, buying bars and truffles, watching cooking demos and more.
Our favorite this year was Comptoir du Cacao from France. They served up chocolate in several forms – solid pieces, pralines, and "croustines" – little clusters. I was also pleasantly surprised by the new "Crave" bar from NewTree. The pairing of apricots and milk chocolate almost didn't interest me, but it was great (I should have known – I love their milk chocolate lavender bar).
Before my chocolate high wore off, I picked up some retro bars from Chocolate Bar and the new Chili Cherry bar from Chocolove. Oh, and I almost forgot to mention my favorite purchase (and undoubtedly the one which will last the longest) – a chocolate-scented Chocolate Show hoodie!
The entrance fee is $28: a bargain for chocolate enthusiasts, and for everyone else, a good excuse to go at least once. But if you missed it, why not pick up $28 worth of chocolate and have a tasting at home?