Did you know that Rhode Island is one of the few states with strict laws prohibiting happy hour drink promotions? Luckily, those laws don't say anything about food. Check out these two specials for your happy hour fix.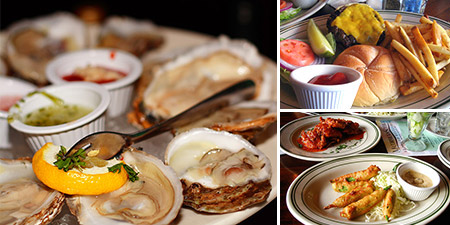 Oysters at Big Fish (credit: Michael O'Mara), $1.95 burger and cajun fare from M&S
1. Big Fish's Oyster Happy Hour
When? Twice a day, once from 4-6pm and again an hour before closing.
What? 49 cent oysters as well as other discounted bites. The oysters were delicious. Rumor has it that regulars have been known to order several dozens.
Where?
370 Richmond St., Providence (in the Jewelry District)
2. McCormick and Schmick's
When? 3:30 – 6:30pm and 10pm – midnight, weekdays only
What? A cheap but filling appetizer menu at the bar, 2-drink minimum. The star, in my opinion, is the $1.95 half pound cheeseburger (complete with fries and a pickle). On Wednesdays, they offer cajun appetizers.
Where?
11 Dorrance St., Providence (Downtown)